Publications of the research group since 2016. For earlier publications, please visit Fabian Beck's Google Scholar or DBLP profile.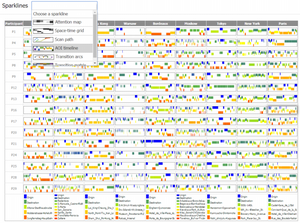 Type of Publication: Article in Collected Edition
An Expert Evaluation of Word-Sized Visualizations for Analyzing Eye Movement Data
Author(s):

Beck, Fabian; Acurana, Yasett; Blascheck, Tanja; Netzel, Rudolf; Weiskopf, Daniel

Title of Anthology:

Proceedings of the 2016 IEEE Second Workshop on Eye Tracking and Visualization

pages:

50-54

Publication Date:

2016

Digital Object Identifier (DOI):

Fulltext:

Citation:
Abstract
Word-sized visualizations for eye movement data allow analysts to compare a variety of experiment conditions or participants at the same time. We implemented a set of such word-sized visualizations as part of an analysis framework. We want to find out which of the visualizations is most suitable for different analysis tasks. To this end, we applied the framework to data from an eye tracking study on the reading behavior of users studying metro maps. In an expert evaluation with five analysts, we identified distinguishing characteristics of the different word-sized visualizations.