The Research Group is Moving!
Publications of the research group since 2016. For earlier publications, please visit Fabian Beck's Google Scholar or DBLP profile.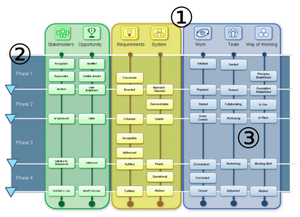 Type of Publication: Article in Collected Edition
A Dashboard for Visualizing Software Engineering Processes based on ESSENCE
Author(s):

Brandt, Sebastian; Striewe, Michael; Beck, Fabian; Goedicke, Michael

Title of Anthology:

Proceedings of the 5th IEEE Working Conference on Software Visualization

pages:

134-138

Publisher:

IEEE

Publication Date:

2017

Digital Object Identifier (DOI):

Fulltext:

Citation:
Abstract
While traditional project planning approaches focus on precise scheduling of tasks, the ESSENCE standard proposes a higher-level approach that focuses on monitoring. Hence, a new kind of process visualization that picks up ideas of Kanban boards and physical cards is sketched in the standard. This tool paper presents a dashboard application refining, extending, and implementing these ideas based on five use cases posed by two industry partners. It demonstrates that a high degree of support for project management can be achieved by using a relatively small set of visualization means.