Publications of the research group since 2016. For earlier publications, please visit Fabian Beck's Google Scholar or DBLP profile.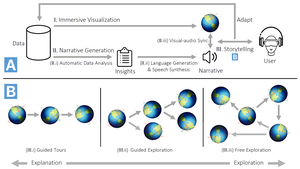 Type of Publication: Article in Journal
Talking Realities: Audio Guides in Virtual Reality Visualizations
Author(s):

Latif, Shahid; Tarner, Hagen; Beck, Fabian

Title of Journal:

IEEE Computer Graphics and Applications

Publication Date:

2021

Language:

English

Keywords:

Data visualization, Virtual reality, Visualization, Speech synthesis, Data analysis

Digital Object Identifier (DOI):

Fulltext:

Link to complete version:

Talk associated with this publication:

Recording:

Citation:
Abstract
Building upon the ideas of storytelling and explorable explanations, we introduce Talking Realities, a concept for producing data-driven interactive narratives in virtual reality. It combines an audio narrative with an immersive visualization to communicate analysis results. The narrative is automatically produced using template-based natural language generation and adapts to data and user interactions. The synchronized animation of visual elements in accordance with the audio connects the two representations. In addition, we discuss various modes of explanation ranging from fully guided tours to free exploration of the data. We demonstrate the applicability of our concept by developing a virtual reality visualization for air traffic data. Furthermore, generalizability is exhibited by sketching mock-ups for two more application scenarios in the context of information and scientific visualization.