Publications of the research group since 2016. For earlier publications, please visit Fabian Beck's Google Scholar or DBLP profile.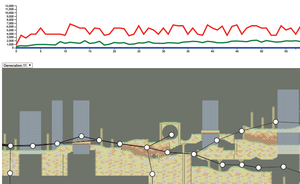 Type of Publication: Article in Collected Edition
Visualizing AI Playtesting Data of 2D Side-scrolling Games
Author(s):

Agarwal, Shivam; Herrmann, Christian; Wallner, Günter; Beck, Fabian

Title of Anthology:

Proceedings of IEEE Conference on Games

pages:

572-575

Publication Date:

2020

Keywords:

artificial intelligence, playtesting, visualization

Digital Object Identifier (DOI):

Fulltext:

Talk associated with this publication:

Recording:

Citation:
Abstract
Human playtesting is a useful step in the game development process, but involves high economic costs and is time-consuming. While playtesting through artificial intelligence is gaining attention, it is challenging to analyze the collected data. We address the challenge by proposing visualizations to derive insights about level design in 2D side-scrolling games. To focus on the navigation behavior in the level design, we study the trajectories of computer agents trained using artificial intelligence. We demonstrate the effectiveness of our approach by implementing a web-based prototype and presenting the insights gained from the visualizations for the game Sonic the Hedgehog 2. We highlight lessons learned and directions to customize the approach for other analysis goals of playtesting.